Cybershield Training
Our serious game on cybersecurity
Expose your employees to simulated cyber attacks to increase their cybersecurity preparedness and protect your organisation.
Try the game
"Learn to thwart cyber attacks!"
"Edgar, your manager and old friend, has challenged you to put your "hacker skills" at the service of a big company threatened by a group of cyber criminals. How exciting!
Your goals: protecting the company from cyber attacks and helping employees to improve their cybersecurity habits. Nina, the firm's CEO, will be there to help you along the way."
Duration :

around 1 hour (12 five-minute missions)

Available in 9 languages :

French, English, German, Spanish, Italian, Dutch, Polish, Portuguese, and Brazilian Portuguese

Target audience :

all levels of expertise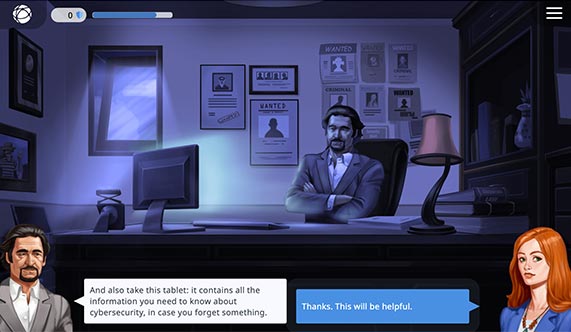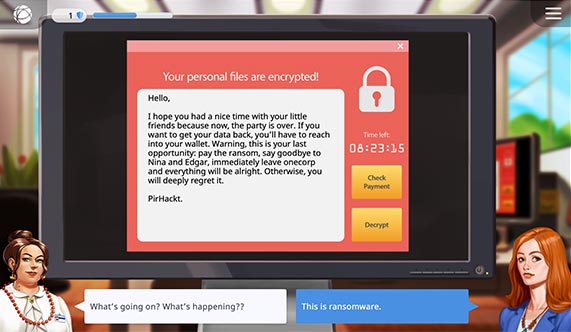 Effective cybersecurity awareness training
Human error is the cause of 80% of cybersecurity breaches. Cybershield Training relies on simulation to help employees recognise threats and apply best cybersecurity practices in the workplace.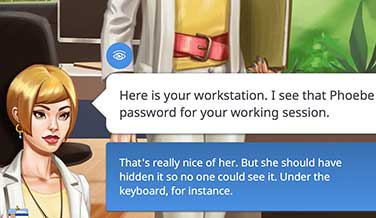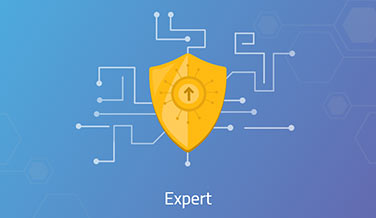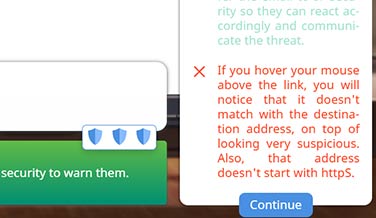 Topics covered
As they progress in the serious game, employees get an overview of current cybersecurity issues.
The basics

Wearing your badge.
Choosing, memorising, and saving a password.​
Differences between spam and official emails​​.

Cybersecurity in the workplace

Safe Desk (post-its, USB sticks, reports…).
Personal and professional activities.
GDPR and DPO.

Dealing with a problem

Contacting a customer in case of a problem.
Information disclosed over a phone conversation.
Breach.

Cybersecurity and mobility

Privacy in public places.
Remote work and secure access.
Loan of IT equipment.
A turnkey serious game that is also adaptive
Cybershield Training has been designed as a quick introduction to cybersecurity for your employees, and it can be customised to cater to your company's specificities.
Quick deployment

The serious game is a SaaS application that can be deployed quickly across your organisation. We can connect it to your SSO and/or LMS simply on demand.

Customisable content that reflects your day-to-day activity

We can add names, logos, terms, and/or rules specific to your company to the game's scenes. We can also personalise the knowledge base to add your internal procedures.

Performance tracking

Depending on your needs, you can track your employees' activity and learning progress via an admin dashboard or your LMS.​

A clear and tailored offer

Cybershield Training's pricing is based on the number of learners per year, with a sliding scale. A set-up fee can be added depending on the chosen options (statistics, languages, customization…).
Try Cybershield :)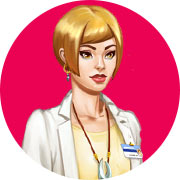 Try the first mission of our serious game on cybersecurity for free and start hunting down the hackers.
Try the game
You may also like…